Want to Keep Your Wine Collection Safe? Store It in a Bomb Shelter
By Paul Sullivan
James D. Wallick has thousands of bottles of wine spread over several locations.
He keeps about 400 bottles in his apartment on the Upper West Side of New York. Most are ready to drink, but some are waiting to be transported by climate-controlled van to a storage facility in Jersey City, where they'll age in a temperature-controlled environment.
The storage facility, Mana Wine Storage, keeps 2,000 to 3,000 of bottles of wines for Mr. Wallick at any one time. These include bottles he stores for the New York chapter of the Chaîne des Rôtisseurs, an international food and wine club. He is the chapter's president.
Mr. Wallick has a third storage spot: a wine cellar in his weekend home in Bridgehampton, on Long Island, that holds 5,000 bottles. It is more or less full, he said.
Why does he spread his wine out in so many places? Logistics, primarily, but also convenience, he said.
"You need access," said Mr. Wallick, 55, who runs a family business, Mercer Tool Company, which makes industrial materials and chef-grade cutlery. "I know that if I call Mana up, the wine is going to be delivered the next day."
In the realm of high-end wine collecting, storage is crucial, however mundane that might sound. How people store their wine can ensure it maintains its value. Where they store it brings peace of mind, whether it is in a vault high above the ground or a bomb shelter below it.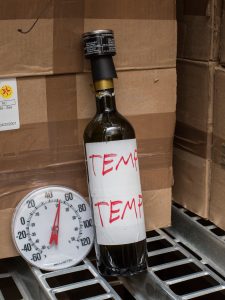 "We're basically providing the optimal environment for the wine," said Avner Schneur, president and chief executive of GRM Document Management, which owns Mana Wine Storage. "We're providing the capability to monitor it."
During Hurricane Sandy in 2012, he noted, personal cellars and several storage facilities were flooded. "Our warehouse is above the ground, so we don't have the flood risk," he said.
To people who keep only a few bottles of wine around the house, such focus on storage may seem strange. But collectors take it seriously for several reasons.
Space is an obvious need. Dr. Mark Connolly, a cardiovascular surgeon, has always lived in apartments in and around New York. He has focused his collection on Italian red wine.
But using a storage service has created its own problem: an overabundance of wine. Because Dr. Connolly, 63, never had to worry about managing his inventory, he just kept collecting.
He has 7,000 bottles, and he knows he will never finish them in his lifetime. "I always tell my kids, 'You can't sell it,'" Dr. Connolly said. "'You have to drink it or give it to your friends.'"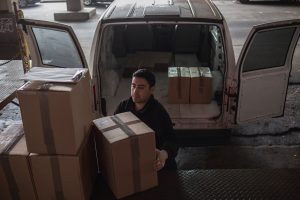 Tim Gallagher, 49, has a cellar in his home in New Canaan, Conn., that holds 2,200 bottles of wine. He keeps an additional 1,300 bottles in storage facilities to age before they're ready to drink, he said.
Like Dr. Connolly, Mr. Gallagher, who works in finance, uses storage facilities because he is buying more wine than he is drinking.
"I try to buy in quantities of three or six bottles," he said. "I'm not seeking to acquire a lot more bottles. My goal is to have lots of variety."
Storage facilities also provide records, or provenance, for people who might want to sell their collection one day. Just as art collectors want to know who has owned a work, wine collectors want to know that rare vintages have not been stored in a car trunk.
Wine can be damaged by excessive heat or cold if it is not stored properly.
"With a wine that is heat damaged, the fruit dries out, and it could be tart," said Per Holmberg, former head of the wine department at Christie's auction house and now director of the private client group at Wine Source. "When wine gets too cold, it starts to expand, and you only have a certain amount of space before gases get pushed out through the cork."
A lack of provenance can affect a wine's value, particularly when people are bidding for it at an auction, Mr. Holmberg said. Knowing where the wine has been will help increase the bidding, he said.
Shipping wine in the country is tightly controlled by a web of state laws, and it is illegal for individuals to ship wine themselves across state lines. Having wine storage in different states can ensure that collectors get the wine they want regardless of where they live.
That is one of the reasons Mr. Wallick has wine in New York and New Jersey. Mana also has licenses that allow it to ship a bottle to a friend in another state as a gift.
Mr. Gallagher keeps his wine in four locations. Outside of his own cellar, he has wine at the Chelsea Wine Vault in Manhattan, some of which has been there for more than a decade. Other wine is in River Valley Wine Cellars in Westchester County, which is closer to his home. But recently, he has been storing wine at a facility in northern Connecticut called Horse Ridge Cellars.
Most storage facilities maintain the right humidity and temperature for aging wine, but there is nothing special about them. Horse Ridge, though, has a hook the others cannot match: It stores wine in its nuclear bomb shelters.
One shelter was built by a group of Hartford insurance companies in the 1950s to store their documents and protect their top executives in the event of a nuclear attack.
"When I bought the property in 2000, there were a lot of leftover documents here, and I found all the minutes from board meetings," said Jed Benedict, president of Horse Ridge Cellars. "They fully intended to have this massive, awesome bomb shelter to hide out in, and then the only thing left in the world would be insurance executives."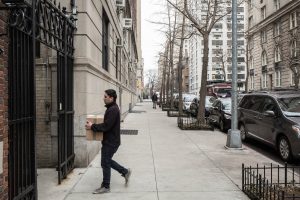 Now the bomb shelter protects hundreds of millions of dollars' worth of some of the greatest wines ever produced. Six years ago, when it filled up, Mr. Benedict built another one.
The natural temperature of these shelters is perfect for wine. The humidity is easy to manage. And security is not difficult to explain: The original bomb shelter has a 12-ton vault door, is eight feet underground and has a series of backup generators that would, well, protect your wine from Armageddon.
But Horse Ridge is two hours from New York, and proximity matters for many collectors. So Mr. Benedict said he was generally in and around New York every week for pickups and deliveries.
Mr. Schneur of Mana markets the convenience of his operation and its climate-controlled vans.
"If you decide you want to get a bottle of wine and ship it from New Jersey to New York, it's illegal for you, but we have the licensing," he said. "We can pick it up for you. We can deliver it for you. We can do it in a rush if it's for tonight's dinner or tomorrow or next week."
Delivery fees vary. As with anything else, if you wait until the last minute, it will cost you more. Mana charges a minimum fee of $40 to deliver wine to Manhattan, whether one bottle or five cases, which Mr. Schneur said was reasonable.
"To cross the tunnel, it's $15 for the toll," he said. "We're not nickeling and diming you."
There are other charges, too. Horse Ridge charges $40 an hour for additional services, like taking an inventory of wine or packing up a collection for shipment.
Storage fees can be as low as $1.95 a month per case of wine, which holds 12 regular bottles or six magnums. Of course, wine collectors rarely store just one box, and they are not putting it there for just a month.
Mana has a monthly minimum of $45, which covers 20 cases of wine. That breaks down to 19 cents a bottle. For people who want their own "wine cage" — a space that holds 100 cases — the cost starts at $100 a month.
But for the serious collectors with hundreds of thousands of dollars or more in wine, these charges are of little matter. They know their wine will be secure for decades.